Upcoming
---
NOCTURNAL CREATURES - Sculpture in the city & Whitechapel Gallery, London

Artist Marisa Ferreira in conversation with Richard Wentworth

Description
As part of Nocturnal Creatures, artist Marisa Ferreira will speak about her work Series Industrial Windows I that takes inspiration from an industrial site in Northern Portugal and reflects her recent work themes, deindustrialization and ruin, to comment on the rapid urbanization and capitalist development of the region. Marisa will be reflecting on the urban landscape where memories of the industrial past are confronted with contemporary artistic production.

Marisa will be in conversation with artist Richard Wentworth, who himself has exhibited twice in Sculpture in the City.

The converstation will start at Cullum St where Series Industrial Windows I is sited and may then move to the seating area under the 'Cheesegrater'.

Book your ticket here: https://www.eventbrite.co.uk/e/artist-marisa-ferreira-in-conversation-with-richard-wentworth-tickets-63003462051

This talk is part of the Sculpture in the City events programme for the second edition of Nocturnal Creatures a free contemporary arts festival which we are proud to be the Associate Programme Partner to. For one night only, the galleries at the Whitechapel Gallery, the Sculpture in the City area and a host of extraordinary east-end spaces are transformed by an exciting programme of performance, sculpture, sound installations, music, video, and culinary experiences.

For other events happening on Saturday 20th July (6-11pm) as part of Nocturnal Creatures, go to

https://www.whitechapelgallery.org/events/nocturnal-creatures-2019/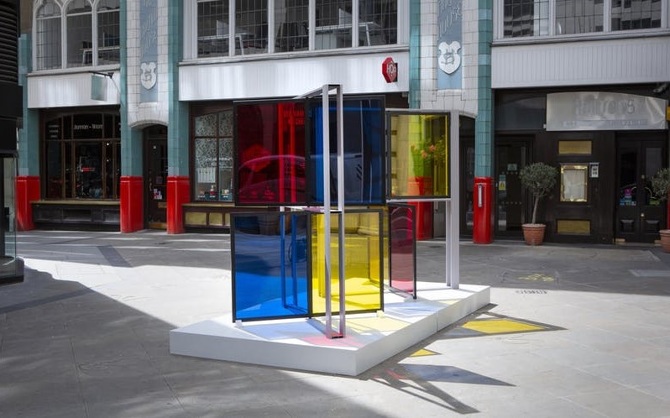 SCULPTURE IN THE CITY
Thrilled to be among the selected artists to the 9th edition of Sculpture in the city, London, UK, with the artwork "Series Industrial Series I" (2018).
Location
: Cullum Street, London
Curated by
Lacuna Projects
Installed by
Mtec
Photo by
Nick Turpin
www.sculptureinthecity.org.uk
Sculpture in the City is an urban sculpture park, set amongst the architectural landmarks in the City's insurance district. This dynamic project, where artworks are installed for up to a year, responds to the area's ever-evolving urban environment by making use of newly created public spaces, or spaces previously unused or inaccessible. These sculptures create an art trail woven through the contemporary towers and historic alleyways of the City's oldest working district. The sculptures add new layers of meaning, playing with the area's identity and encouraging visitors to see this part of the City in a new light.
Sculpture in the City is delivered by the City of London Corporation in partnership with Aon, Aviva, Beaumont, Bloomberg, British Land, Brookfield Properties, CC Land, Hiscox, London & Oriental, Nuveen Real Estate, Tenacity, Tower 42 and TwentyTwo.
The full line-up of artists is as follows: Salvatore Arancio, Reza Aramesh, Elisa Artesero, Shaun C Badham, Jyll Bradley, Nathan Coley, Marisa Ferreira, Leo Fitzmaurice, Kevin Francis Gray, Clare Jarrett, Juliana Cerqueira Leite, Michael Lyons, Nancy Rubins, Nina Saunders, Jennifer Steinkamp, Do Ho Suh, Jonathan Trayte (autumn 2019), Patrick Tuttofuoco and Lawrence Weiner.
More info:
www.sculptureinthecity.org.u
k
Photo by Øystein Thorvaldsen
Honoured to see my piece
"Shall we dance?"
being featured by the The Guardian newspaper, 18.09.2018, as one of "
10 of the best outdoor art installations worldwide
"
Link here |
https://www.theguardian.com/travel/2018/aug/30/outdoor-art-installations-worldwide-readers-travel-tips
---------------------------------------
Upcoming commission "Shall we dance?" for Oslo City Council in Kongens gata, curated by Kulturbyrået Mesen
Thanks to Bygimpuls (NO) v/ Morten for kind support.
Photo taken early August during production of the concrete benches. Project to be installed during September 2017.
---
Solo exhibition "Expanded Paintings" at Bryne Kunstforening // 26.08 - 15.10.2017
Small experiments on colour, form and space.
Photo by Øystein Thorvaldsen
Last stop for "Space, Movement and Colour" (2015-2017) is at Buskerud Kunstsenter, opening on 5th April 2017.

Project is supported by Norsk Kulturrådet and Statens Utstillingsstipend.

Upcoming solo exhibition "Spatial studies: The Expanded Field" opens on 25th March 2017 kl 13 at Oslo Ø, a new art space for contemporary art. Curated by
Kulturbyrået Mesén
+info:
website

|
press release
---
Photo: Blues Studio Photography/ Andre Cepeda
Transparency, Reflection and Colour,
first solo exhibition in Portugal.
Opening on 3rd December 2016 at Center for Art and Architecture Affairs, Guimaraes.
www.centroaaa.org
"Depth, Space and Colour"
, new solo exhibition in Germany.
29th May - 24th August 2016 at Galerie Messmer. Welcome!
Expanded series II (2015) is part of the Østlandsutstillingen 2016 and shall be part of the exhibition at both Akershus Kunstsenter and Vestfold Kunstsenter.


Akershus Kunstsenter: 02.04.-30.04.16
Oppland Kunstsenter: 14.05.-19.06.16
Vestfold Kunstsenter: 17.09.-16.10.16

+ info:

Østlandsutstillingen


---------------------------------------
Supported by Kulturrådet - Arts Council Norway towards the solo exhibition at the Buskerud Kunstsenter, Drammen, April 2017
---
Space, rhythm and movement
- solo exhibition at Galleri Ask, Horten Kommune.
Rare Window (2015)

Site-specific work for Rom for Kunst, will be exhibited on the Oslo central station's facade between 6th February and 1st June 2015. Curated by Kulturbyrået Mesén, Oslo

PWN & Oslo Innovation Week 2014

I am presenting my recent projects at the conferance "Celebrating Female Entrepreneurship and creativity" on 16th October 2014, kl 17 at The View, Oslo. Welcome!

More details here: https://oiw.no/program_2014/celebrating-female-entrepreneurship-creativity/
---
Foto

Construction on Colour /// Galleri BOA, Oslo (NO)
9th January - 4th February 2014

I am exhibiting together with German/ Oslo based artist Susanne K. Mader (www.mader.no). Curator and art historian Joakim Borda-Pedreira (www.theboilerroom.no) writes the exhibition text and will officially open the exhibition on 9th January kl 19.
3rd International Award Andre Edvard /// Messmer Kunsthalle, Germany
27th July-27th October 2013

I am one of the selected artists. Represented by "Homage to Fibonacci XVII" (2012).
---